Studio Ghibli is known for their memorable, mouthwatering depictions of food. Ghibli anime meals regularly serve as inspiration for home chefs all over, and sure enough, recently Japanese Twitter user @yuyu_melancholy made a birthday cake that instantly brings to mind director Hayao Miyazaki's iconic film Princess Mononoke… although not quite for the reason you'd expect.
Behold, the Tatarigami cake.
完成。紫芋のモンブラン pic.twitter.com/3zMHqaPC5o

— ゆう×2@次なに作ろうか (@yuyu_melancholy) April 17, 2020
▼ The original being for your viewing pleasure and nightmares tonight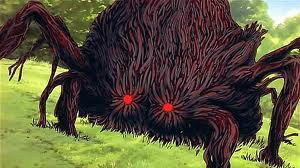 So how exactly did @yuyu_melancholy create this fiendish food? The writhing tentacles seen in the photo above are actually a Mont Blanc (Yes, it's actually not noodles like how many would have guessed at first sight). A French dessert, also popular in Japan, Mont Blanc is traditionally made with pureed chestnut paste, but @yuyu_melancholy has used purple sweet potato to give the edible Tatarigami its ominously intriguing color and legs.
▼ Ordinary Mont Blanc that wouldn't try to kill you
And yes, as mentioned above, @yuyu_melancholy was really making a birthday cake, but as she says in her later Tweet, the candles just make it look like a demonic ritual.
なんか危ない儀式やってるみたいだ… pic.twitter.com/rYlbyEf2gR

— ゆう×2@次なに作ろうか (@yuyu_melancholy) April 17, 2020
All that being said, how does the cake actually taste? Well, if you manage to stomach the sight, it appears that the cake is actually rather delicious, according to the chef themselves.
▼ Yes, that's a shortcake core along with some tart crust right there!!!
断面こんな感じです!タルトにショートケーキ置いて触手纏わせただけのシンプル構造です♪ pic.twitter.com/Y7fNyVpRvE

— ゆう×2@次なに作ろうか (@yuyu_melancholy) April 17, 2020
If you happen to have lots of free time and ingredients during this period of staying indoors, why not try making some food based on your favorite anime series/films? You could very well be the next trend online!