Korean illustrator Soo Min Kim has been using Starbucks cups as his preferred outlet for creativity for a while now, and his most recent masterpiece is bringing fans of famous Ghibli movies together across the Internet.
In the video Kim breaks own his process; first, he uses white paint to blot out most of the iconic Starbucks mermaid except for her face, and then draws in a new body for her with green marker. He then equips her with a little umbrella and sketches in a bus stop for her to stand next to. Then he uses a scalpel to cut around the girl and her bus stop, sketching two parallel lines to stand at each side of the cup as a frame and finally tracing out a rotund figure in the backdrop. Once he fills in the fine details in it, any Studio Ghibli fan can recognize what famous furry friend is standing behind the girl!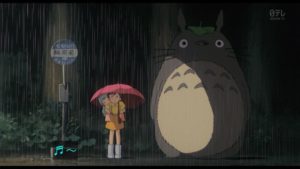 Take a look at some of his other works using Starbucks cups:
These unique cup art pieces have been such a success that the artist has filled actual galleries with them! As a charming bonus piece of trivia, Kim receives no sponsorship from Starbucks for creating the works and he only creates them out of cups he's personally bought and drunk from.