Saber from the Fate series has been associated with many things: Excalibur, her ahoge, CGI dragons (if you know what I mean)… and her love for food.
Now, she and her other fellow Servants of Fate/Grand Order have been summoned at LAWSON convenience stores to get their fill of the franchise's iconic karaage (fried chicken in Japanese). The campaign, which is the second collaboration the game has had with LAWSON, started on Tuesday and includes themed packaging and other goods.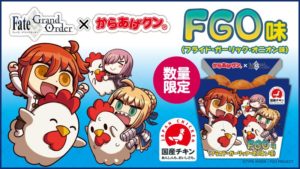 The "Karaage-kun F/GO Flavor" chicken ('F/GO' meaning 'Fried Garlic Onion') comes in a cardboard package depicting Saber, Mash, and the female protagonist with Karaage-kun, the mascot for LAWSON's fried chicken.
LAWSON's official YouTube channel streamed a video featuring mascots of the protagonist and Karaage-kun, with former bullying the poor chicken while the collaboration is explained to viewers.
Furthermore, LAWSON customers can get original Fate/Grand Order merchandise in stores too. Participating locations will have clear files, mini posters, charms, and prints, with different items have individual purchasing requirements, like buying sweets or instant noodles.
The official LAWSON website has more details on the collaboration, which can be seen here. Will you be getting your fried chicken fix too?