Studio Ghibli fans and collectors will have two new editions to add to their media shelves in May. Shout Factory will be releasing two new steelbook editions of classics Ponyo and Howl's Moving Castle on May 12th. Both of the discs are loaded with special features, and each features new artwork on the cover. You can check out both releases below, and preorder them for yourself here: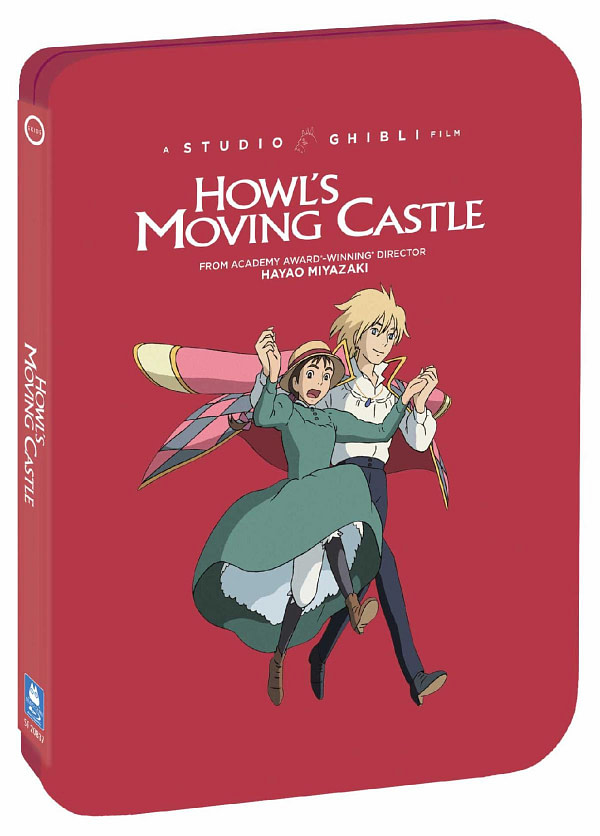 From the legendary Studio Ghibli, creators of Spirited Away, and acclaimed director Hayao Miyazaki, comes the Academy Award®-nominated fantasy adventure for the whole family.
Sophie, a quiet girl working in a hat shop, finds her life thrown into turmoil when she is literally swept off her feet by a handsome but mysterious wizard named Howl. The vain and vengeful Witch of the Waste, jealous of their friendship, puts a curse on Sophie and turns her into a 90-year-old woman. On a quest to break the spell, Sophie climbs aboard Howl's magnificent moving castle and into a new life of wonder and adventure. But as the true power of Howl's wizardry is revealed, Sophie finds herself fighting to protect them both from a dangerous war of sorcery that threatens their world. Featuring the voices of Jean Simmons, Christian Bale, Lauren Bacall, Blythe Danner, Emily Mortimer, Josh Hutcherson and Billy Crystal.
Bonus Features:
·        Feature-Length Storyboards
·        Original Theatrical Trailers
·        TV Spots
·        Interview with Diana Wynne Jones
·        Miyazaki's Visit to Pixar
·        Explanation of CG
·        The Birth Story of the Film Soundtrack
·        Behind the Microphone
·        8-page Booklet with Producer's Statement and more
From the legendary Studio Ghibli, creators of Spirited Away and My Neighbor Totoro, and Academy Award®-winning director Hayao Miyazaki, comes a heartwarming family adventure.
When Sosuke, a young boy who lives on a clifftop overlooking the sea, rescues a stranded goldfish named Ponyo, he discovers more than he bargained for. Ponyo is a curious, energetic young creature who yearns to be human, but even as she causes chaos around the house, her father, a powerful sorcerer, schemes to return Ponyo to the sea. Featuring the voices of Cate Blanchett, Noah Cyrus, Matt Damon, Tina Fey, Frankie Jonas, Cloris Leachman, Liam Neeson, Lily Tomlin, and Betty White.
Bonus Features:
·        Feature-Length Storyboards
·        Original Theatrical Trailers
·        TV Spots
·        The Five Geniuses Who Created Ponyo
·        Press Conference: Theme Song Announcement
·        Behind the Microphone
·        Opening Event at Hibiya Scala-Za Theatre
·        Interview with Hayao Miyazaki
·        Interview with Toshio Suzuki
·        Theme Song Music Video
·        Hayao Miyazaki Press Conference at the Foreign Correspondents' Club of Japan
·        Creating Ponyo
·        Ponyo & Fujimoto
·        The Nursery
·        Scoring Miyazaki
·        Producer's Perspective: Telling the Story
·        The Locations of Ponyo
·        8-page Booklet with Producer's and Director's Statements and Lyrics